Hello there :D
I just wanna share some of great guitarists from 60-70's,which i considers as golden era of rock guitar playing pioneers,and no,it will be no Blackmore,Uli Jon Roth,Schenker,Yngwie (he's 80's guitarist),or any usual shredder i mentioned here,since it will be unfair,dull and bore your asses off...:p
And i'm not making a rank or that kind of shit,since obviously i will include Blackmore,Schenker,etc on it when i want to make i that way,but this post are MERELY some sharing and suggestions to open up your mind
Well,i'm not great at making introductions,both in Indonesian nor English,so let us just get started with this,okay?
10. Keith Richards
(Rolling Stones' Guitarist)
Genres : Rock,Rock N Roll,Blues Rock,R&B
Notable Instruments : Fender Telecaster
Era : 60's
Keith Richards is considered one of most influental man in controlling the band,besides Mick Jagger,obviously.He's also infamous for his swagger,lifestyle and rock and roll ethics that influenced a lot of rock artists.While he's not a technical player (in fact he's really,really sloppy and none of his solos are that difficult,or even can be called guitar solos),you can't deny that Stones had major contribution in the music,and it can't be apart from Richards' unique riffs and phrases in such influental songs,ie : Satisfaction.
He also used some unique tunings,and creates some nice,yet simple and easy intro like in Gimme Shelter
Favorite Songs From Him : Paint It Black,Gimme Shelter,(I Can't Get No) Satisfaction,Sympathy For The Devil,Street Fighting Man
Some Trivia : Richards' casts Captain Teague (Jack Sparrow's father) in Pirates of The Caribbean : At The World's End
9. Pete Townshend
(The Who's Guitarist)
Genres : Hard Rock,Pop Rock,Art Rock,Power Pop
Notable Instruments : Various,from a Rickenbacker 330,Gibson Les Paul to Fender Stratocasters
Era : 60's
Townshend is known as the first guitarist that used full-stack amplifier (Marshall in this case) to the shows,and play it loud! Not only that,his stage antics,and more importantly,guitar playing is highly influental to music scene,especially rock,since he shows us how to rock,and that simplicity is the key to great songs.
He's also a mediocre lead player,but he had a great influence in many of guitar players and his rhythm playing,his loud live tone,and song writing,is what makes Townshend,Townshend.
Favorite Songs From Him : My Generation,Baba O Riley,Behind Blue Eyes,Who Are You,I Can't Explain
Some Trivia : Pete Townshend is infamous for his outrageous stage antics,the first known rock artist to break guitar onstage.He also suffers some partial deafness and tinnitus (which obvious,considered how loud The Who must be in concert back then)
8.George Harrison (R.I.P)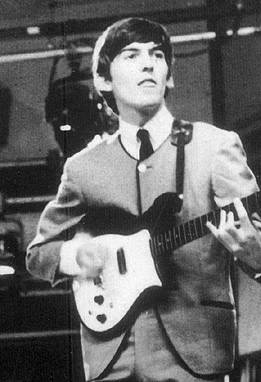 (The Beatles' Guitarist)
Genres : Rock,Pop
Notable Instruments : Gretsch Country Gentleman
Era : 60's
The lead guitarist for the biggest band in the world in 60's,Harrison enjoys his height of popularity with The Beatles back then,as the part of the most famous yet biggest band in British Invasion back then in 60's.Although often bashed as overrated and mediocre guitarist in general,in my opinion Harrison isn't that bad.Actually,he got some nice melody lines and influental in direct or indirect way to rock guitar playing and of course,music in general. While he also a mediocre player,his creativity and vision is what makes him a great guitarist and musician.
Favorite songs from him : While My Guitar Gently Weeps,Blackbird,Let It Be,I Wanna Hold Your Hand,Yesterday
Some Trivia : He almost killed in 1999,when some mentally disturbed man enters his mansion and stabbed Harrison several times,fortunately,he survived the assassination attempt.The incident makes him the second ex-Beatles member to suffer an attempt of assassination (the other is John Lennon,obviously,whose tragically killed by his own fans)
7. David Gilmour
(Pink Floyd's Guitarist)
Genres : Progressive Rock,Psychedelic Rock,Experimental
Notable Instruments : Fender Stratocaster
Era : 60's (Though he peaked in 70's,but he already make his marks in late 60's)
One of the most melodic guitarist in the business,David Gilmour is one of my personal favorite,since many of kids my age doesn't even have any idea what kind of band Pink Floyd was.Gilmour first stint in Pink Floyd was he's the one that take the role of lead guitarist and vocalist in Pink Floyd from Syd Barrett (but Barrett stays in Floyd for some short time,though).He's one of the old school guitarist that known for his melodic,bluesy approach for solo,in a psychedelic progressive band,which makes him sounds unique.His vibrato and phrasing is what makes him stands out the most.But not only that,his experimentation with many kinds of EFX,such as delay,phase shifters,choruses and many more makes Pink Floyd sounds really unique and ahead of their time,yet makes them one of most influental progressive act to date.
Favorite Songs From Him : Well,since many of Pink Floyd track is in concept album format,it will be hard time to decide it,lol..but i had decided what are those :
Another Brick In The Wall Pt 2,Money,Comfortably Numb,Breathe (+ On The Run),Ibiza Bar
Some Trivia : Gilmour worked as model before he joined Pink Floyd as lead guitarist and vocalist.
6.Tommy Bolin (R.I.P)
(Solo,ex-Deep Purple,ex-Zephyr,ex-The James Gang)
Genres : Funk Rock,Blues,Jazz Fusion,R&B,Hard Rock
Notable Instruments : Fender Stratocaster (Although he uses many guitars,he usually related with Stratocaster as his main live and recording tone)
Era : 70's
Tommy Bolin is perhaps more known as the man that replaced Ritchie Blackmore in Deep Purple back then on 1975.But Tommy Bolin was much more than Blackmore's replacement.While he's not really a hard rock/heavy metal type of player,Tommy Bolin got some nice chops and quite a versatile player.He was regarded as one of most talented funk/blues/fusion player in America back then,yet unfortunately remains in his cult hero status rather than the international known guitar hero like many of his contemporaries,mainly because his inconsistency,lifestyle,and short-lived career.You can see his vision,chops and diversity in his solo albums,both in Teaser or Private Eyes.He showed his creativity,and vision in those albums,and yet you can see although he played blues or funk music,he sounds original,unlike many of funk guitarists.
Favorite Songs From Him : Comin Home (Deep Purple),Getting Tighter (Deep Purple),Savannah Woman,The Grind,Bustin' Out For Rosie
Some Trivia : Ritchie Blackmore compliments him as a great player and humble person,but also considered Bolin as a strange person,as far as didn't even know that guitarists need to change their strings.
5. Tony Iommi
(Black Sabbath,ex-Heaven And Hell,ex-Jethro Tull)
Genres : Heavy Metal,Doom Metal,Hard Rock,Blues Rock
Notable Instruments : Gibson SG
Era : 70's
Iommi will always be remembered as the true godfather of heavy metal,being the lead guitarist of Black Sabbath,the first band that considered as first true heavy metal band in the world,thus making him the riffmaker of the first heavy metal riffs.Iommi is a really great rhythm player,and also not a shabby lead player as well (although he's inferior compared to his contemporary such as Blackmore or Page).He pioneered heavy metal riffings,along with downtuning his strings because of the factory incident that chopped up 2 of is fingers.Coincidently,those tunings and riffings that makes him easy to play also creates basis for heavy metal guitars,along with Sabbath's dark imagery and lyrical themes,gave birth to the most heavy form of rock of that time,heavy metal,and Sabbath as the true originator of the genre.
Favorite Songs From Him : Heaven And Hell,N.I.B,War Pigs,Megalomania,Sabbath Bloody Sabbath
Some Trivia : When his finger was chopped after the factory accident,Iommi almost gave up playing guitar.He decided to continue after listened to Django Reinhardt,a jazz virtuoso guitarist who only played with 2 fingers,which motivates him to keep playing,and make it for living.
4.Eric Clapton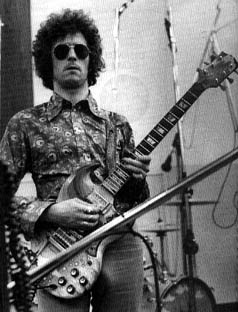 (Solo,ex-Cream,ex-John Mayall & The Bluesbreakers,ex-Derek & The Dominos)
Genres : Psychedelic Rock,Hard Rock,Blues Rock,Blues,Pop Rock,Ballads
Notable Instruments : Gibson SG,Fender Stratocaster
Era : 60's
The first lead-guitar hero,Eric Clapton is now far cry from what he was in 60's.Now more known as commercial pop artist with some blues influences,Eric was one of most prominent and influental guitar player in 60's,known as one of quartet of rock guitarist of 60's,along with Jimmy Page,Jeff Beck,and Jimi Hendrix.He's also the one of first player that experimented with overdriven amp,along with wah-pedals (Even the site dinosaurrockguitar.com states,that Jimi Hendrix inspired to get a wah after listening to Clapton playing!)
Technical-wise,Clapton is more known for his sweet phrasing and awesome vibrato,and never played flashy and shred licks.He always "plays safe" and controled while soloing,unlike his contemporaries such as Hendrix,Blackmore,or even Page.
While never considered as the "Guitarist of 60's",Clapton almost claimed that title,only lost to Jimi Hendrix,which appeared in British music scene back then in 1966.Clapton had a long career,started with Yardbirds (which he's paired with Beck,Clapton later leaves and Jimmy Page joined Yardbirds).He also once joined John Mayall & The Bluesbreakers,which acquire him the nickname "Slowhand",quitted the group to form the first supergroup of rock,Cream,with bassist-vocalist Jack Bruce and drummer Ginger Baker,which emerged the legendary "Clapton is God" gravity in England.Unfortunately,he fed up with the whole "guitar hero" status and decided to change his whole image,even as far as his sound and guitars to pursue more commercial way of playing music,started with Derek and The Dominos,also his solo career,which makes him famous worldwide,mostly in 1990s,thanks to the ballad "Tears in Heaven".
Favorite Songs From Him : Sunshine Of Your Love,White Room,Strange Brew,Politician,Layla
Some Trivia : Eric Clapton was the one that play leads in "When My Guitar Gently Weeps" by Beatles,because George Harrison said he's too nervous about his guitar skills
3.Jeff Beck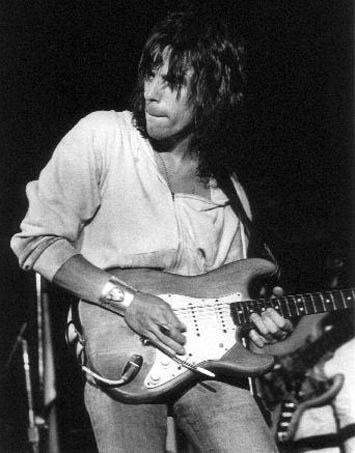 (Solo,ex-Jeff Beck Group,ex-Yardbirds,ex-The Honeydrippers,ex-Beck Boggert Appice)
Genres : Instrumental Rock,Jazz Fusion,Hard Rock,Blues Rock,Psychedelic Rock
Notable Instruments : Fender Stratocaster
Era : 60's
Jeff Beck is one of best player in 60's,or even until now.He's one of the most versatile player in the business right now,playing sessions for stars such as Stevie Wonder.He mostly known as the player that made instrumental rock guitar playing popular back in 70's.
Although the best in technical terms among ex-Yardbirds guitarist,and the most versatile of them all,Beck never stands out or as famous as much as his colleagues,Jimmy Page and Eric Clapton.It might be his not-so-great songwriting,or lack of "fire" in his rock band format career,(he's a much more better player in instrumental guitar music,anyway).He's known as one of the best and notable player in instrumental rock or jazz fusion scene,thanks for his unique style and distinctive licks.He didn't use any picks when he play,which allow him to control the sound and tone of his guitar solely with his fingers,but can still do fast runs by picking with a fingernails.As one of the quartet mentioned above,Beck is the most distinctive between all of them,while the other tends to sounds bluesy,he sounds different and still developing as player even until now (Jimmy Page has lost his licks years ago,Clapton had changed his style,a lot,and Jimi Hendrix,well,was already passed away)
Favorite Songs From Him : Cause We've Ended As Lovers,You Know What I Mean,Beck's Bolero,Freeway Jam,Let Me Love You
Some Trivia : The song "Superstition" by Stevie Wonder was actually based a drum beat played by Jeff Beck that loved by Wonder.In exchange,Wonder offers him Cause We've Ended As Lovers to Jeff Beck,which later appeared in Jeff Beck's album,Blow By Blow
2.Jimmy Page
(ex-Led Zeppelin,ex-The Firm,ex-XYZ,ex-Page & Plant,ex-Coverdale & Page,ex-The Honeydrippers)
Genres : Hard Rock,Folk Rock,Heavy Metal,Blues Rock
Notable Instruments : Gibson Les Paul,Gibson EDS-1275,Fender Telecaster,Danelectro 59DC
Era : 60's
Another The Yardbirds guitar alumnus,Page also leaves legendary marks in music world.After Beck leaves The Yardbirds and The Yardbirds practically disbanded,Page lead the remains of Yardbirds that will soon be the legendary band Led Zeppelin,by recruiting a talented session player John Paul Jones,and two then-unknown,yet potent young men that will known worldwide as vocalist Robert Plant and drummer John Bonham.Together,those four young men making their own legendary marks in music,and influenced many rock bands after them.He started his career as musician by performing as session musicians in England
Technically wise,Jimmy Page is often sloppy and off-time (although he did great in early Zep performance).His main "weapon" is no other than good old pentatonic licks that used by blues players,but used so creatively so it sounds so damn tasty and awesome.
Among the ex-Yardbirds guitarist,Page main power is his vision,creativity and production technique,whilst Beck's are technique & chops and Clapton's are his vibrato and accessible songs.Page creative force managed Led Zeppelin to writes now-legendary songs such as Stairway To Heaven,Kashmir,The Ocean,Immigrant Song,and many others.His artistic vision,leadership and recording technique also helps Led Zeppelin to achieve their success,both commercial and musically.
Although already well known in 60's,we can say that Page golden era actually are the 70's,which Led Zeppelin actually rule the music world.Jimmy Page himself become the legendary guitarist that influenced a lot variety of guitarist,from blues-hard rock player like Slash(Slash is often considered a copy of Jimmy Page,although they're quite different),rock players like Eddie Van Halen (he claims his tapping inspired by "Heartbreaker" solo from Led Zeppelin II),shredders like Paul Gilbert(Paul Gilbert once states that Led Zeppelin is one of his favorite band) or even instrumental rock guitarist like Steve Vai (Steve Vai claims that he picks up guitar after listens "Heartbreaker" solo).
Favorite Songs From Him : Black Dog,The Ocean,Communication Breakdown,Ten Years Gone,Rock and Roll
Some Trivia : Back then in his session days,Jimmy Page is called "Little Jim",this was occured to avoid confusion between Jimmy Page and Jim Sullivan,another notable session player back then (Jim Sullivan is known as Big Jim Sullivan,who was Ritchie Blackmore's mentor).And there are 3 notable session player in rock and roll scene back then,besides the 2 Jims,the other one is Ritchie Blackmore.
1.Jimi Hendrix
(ex-The Jimi Hendrix Experience,ex-Band of Gypsys)
Genres : Psychedelic Rock,Funk Rock,Acid Rock,Blues Rock
Notable Instruments : Fender Stratocaster
Era : 60's
Okay...this will took a while..
Well,Jimi is one of my personal favorite,but i didn't mention him a lot like i mention Blackmore before,so here we goes...
The legendary influental guitarist of all time..Hendrix was the one that inspired millions of player both of his time and after his time to play electric guitar.He experimented with massive amount of feedbacks,the factor of playing that was undesirable for guitarist back then,and control them to become "his power and soul" in stage,playing wah-wahs,played funk and R&B rhythm style and integrated it with rock,and also considered the first true guitar god.He appeared to the scene in one night in England,when he decided to jam with Clapton in Cream gig,playing "Killing Floor" with such an outrageous,fast and passionate force,includes the stage acts,that leaves the audience,even Clapton shocked (Clapton considered the song to be difficult,and this legendary event was dubbed "Hendrix killed Clapton",you can search for it in youtube,there's a documentary about it).
He's also the one that first used fast pentatonic licks with fuzzy overdriven amp to the table,inspired many of hard rock guitar players after him.But his main power is his passion and vision in his music.You can feel the "fire"(pun intended) of his playing just by listening to his records and live videos.It may be sloppy,but you can't deny that the man has a lot of passion,a chock full of attitude,and also the fire that will leave you "what the fuck was that?" and leaves you want to hear it again,again,and...again!
He is notable for wearing his stratocasters upside down,since there are no lefties guitar back then.Being the stratocaster users,he also maximizes the usage of twang or tremolo bars on his strats,by performing divebombs tricks by overdriven the amp and abuse the whammy bars (even make a solo out of it,the legendary "Star Spangled Banner" performance,Woodstock).But it's not only his power,he's also a great and distinctive rhythm player,combined the funk,motown style riffs with hard rock styles,and also singing while playing that damn guitar! Just listen to "Little Wing" from Axis : Bold As Love LP,and if you listen to it,it seems like 2 guitar played together,but it's just a guitar,and he did it live with singing!
Sadly,The Jimi Hendrix Experience disbanded not long after the Electric Ladyland album,and much more sad news is,on September 18 1970,Jimi was found dead in his hotel room after choked by his own vomit.Though his short career,his legacy is undeniably important and effectively changed the rock guitar playing forever.All electric guitarists today,directly or undirectly,like him or not,are inspired by Jimi Hendrix,regardless of genres,styles or whatsoever. Hendrix is not only influence in music,he inspired life of many musicians after him,his legacy will be irreplaceable by anyone for many,many years.
Favorite Songs From Him : Well,i'll give ten songs for him,okay? :p
Voodoo Chile (Slight Return),Highway Chile,Fire,Purple Haze,Spanish Castle Magic,Castles Made of Sand,Foxy Lady,Machine Gun,Ezy Rider,Drifting
Some Trivia : Hendrix's hit name ,Purple Haze,came from the term to refer LSD called Delysid,which came in Purple-colored capsules
Well,it's quite a long post,but it's quite worth it..hope you like it